Julie Klamon, LMFT -
Trauma Therapist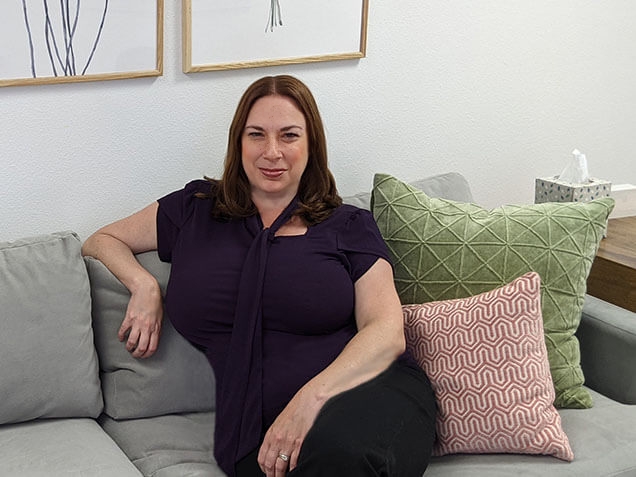 I have over 20 years of experience working with children, families, and adults who have experienced various forms of trauma. I specialize in assisting patients in overcoming the effects of their trauma.
If you are experiencing symptoms of trauma that are affecting your daily life, it may be helpful to speak with a mental health professional. I offer a personalized, compassionate approach to trauma counseling. I specialize in helping people overcome trauma and find relief. Some of the interventions I use in therapy are: Trauma focused CBT, Mindfulness, Somatic work, and Relaxation exercises.
Whether you are struggling with post-traumatic stress disorder (PTSD), complex trauma, or any other form of trauma, I am here to support you on your journey to healing and recovery.
---
Causes of Trauma
Trauma is a type of psychological injury that can occur as a result of a variety of experiences, such as:
Natural disasters
Accidents
Physical abuse
Neglect
Car Accidents
The unexpected death of a loved one
Bullying
Witnessing violence
Experiencing violence or a crime
Witnessing a severe injury to another person
Experiencing a serious injury
Trauma can be extremely distressing and interfere with daily activities such as work, school, and relationships.
---
Symptoms of Trauma May Include
Intrusive thoughts or flashbacks of the traumatic event
Difficulty sleeping or sleeping too much
Difficulty concentrating or making decisions
Irritability or anger outbursts
Hypervigilance or difficulty feeling safe
Avoidance of activities or places that may trigger memories of the trauma
Difficulty trusting others
---
Types of Therapy Offered:
I offer Individual and family therapy to those that have experienced trauma.
Individual Therapy

is a one-on-one setting where clients can discuss their experiences and feelings. This is a safe and confidential environment to process the trauma's effects and develop coping strategies.

Family Therapy

- is a form of therapy that helps families address and resolve issues that may have arisen due to the trauma. It benefits the trauma survivor and other family members who may have been affected by it. Family members can work through the impact of the trauma and receive support in a safe and therapeutic environment.
---
Benefits of Therapy
Seeking counseling for trauma includes many benefits:
Relief from symptoms:

Therapy can provide a safe and supportive space for survivors to process their experiences and work through symptoms like flashbacks, difficulty trusting others, and changes in behavior. This can help alleviate some of the pain and suffering caused by the traumatic event.

Improved relationships:

Therapy can help trauma survivors improve their relationships with others, such as family, friends, and romantic partners. Therapy can help survivors rebuild and strengthen their relationships by addressing trust and communication issues.

Increased self-esteem:

Trauma is often detrimental to a person's self-esteem. Therapy can help survivors overcome feelings of self-blame and increase their self-confidence and self-worth. By seeking trauma counseling, survivors can gain valuable tools and insights to help them heal and move forward in their lives.
---
In-Person and Virtual Therapy Options Available
My office is located in Agoura Hills, CA, 91301. I provide in-person therapy to patients in the surrounding areas, including Westlake Village, Oak Park, Calabasas, Thousand Oaks, Woodland Hills, and other surrounding cities. I also offer virtual therapy sessions to individuals located anywhere within California.